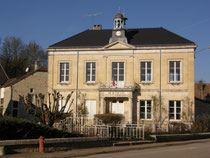 Cirfontaines en Azois is a small agricultural community which nestles in the valley of the river Aujon and is home to around 200 'Cirfontainois'.   The first part if the village's name ('Sirufons' in Latin) comes from the many springs which rise in the village, thanks to the limestone bedrock.      'Azois' means 'willow' and refers to the time when willow for basket-making was grown in the village.   Although that's long gone this tradition has been revived with the arrival of a basket-weaver to Cirfontaines in 2010,  with his showroom and workshop. 
The first documented reference to Cirfontaines dates back to the 11th century when the marshy area by the river was used to grow vegetables for the nearby monastery at Clairvaux.   This part of the village is still used for vegetable growing (we rent a plot there) and people have told us that when the last monks left the monastery soon after the French revolution they handed plots over to the peasants who had worked the fields for them.    
The limestone geology which brings so many watersources to Cirfontaines is also responsible for the beautifully rolling countryside and its flora.   A springtime walk in the forest will be a joy for visitors who can admire wild lily-of-the valley, aquilegia and orchids, among others.   This varied flora in its turn hosts a fabulous range of butterflies and other insects.   A waymarked 8-kilometre circular walk, 'les trois vallons' (which gives our gite its name) starts in the village, and keen walkers can also follow the route of  the 22Km 'route des lavoirs) which passes through Cirfontaines.
Like many small communities in France (and in the UK), Cirfontaines has lost its bakery, its café-bar and its school, but happily,  the population has started to grow again with the arrival of several young families in search of a peaceful rural community to bring up their children.   For visitors as well as locals there are various mobile tradespeople who visit regularly;  two bakers have vans visiting the village daily and there is also a weekly butcher's van.    The nearby town of Chateauvillain, 10 minutes away by car, has everything you might need during your stay, including a supermarket, bakeries, a post office, a general hardware store, hairdressers, a pharmacy, two bars and two restaurants.